Made in collaboration with TreinspotterJeffrey/Sanyo J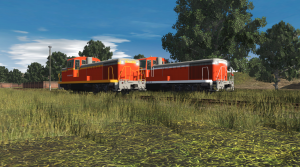 Left: DE65 – Right DE10
DOWNLOAD All the necessary dependencies are either included in this package or are avaible on the DLS.
The Akita Rinkai Railway currently owns three DE10 diesel locomotives, all actually ex-DE15s converted to DE10 standards. Two of them are ex-JR East locomotives, while the third was actually purchased "third-hand" from the Tokachi Railway in Hokkaido upon it's closure in 2012, wich itself had been purchased from JR East in 2004. All three DE10s are currently in regular service, painted in the JNR-era standard diesel locomotive livery.
The railway also used to own one more DE10-type locomotive: DE65 2 wich the Akita Rinkai Railway had purchased from the Niigata Rinkai Railway upon it's closure in 2003. In Akita Rinkai Railway service, DE65 2 kept it's Niigtata Rinkai Railway-era livery (basically the same as the JNR standard livery but with a yellow line instead of a white one). In November 2011, DE65 2 was loaned for a symbolic price to the Sendai Rinkai Railway, to help with reconstruction works after the 2011 Tohoku Earthquake and Tsunami. DE65 2 was later outright acquired by the Sendai Rinkai Railway in 2017.
Currently, with the railway's closure looming, the Akita Rinkai Railway is selling off most of it's rolling stock. The Sendai Rinkai Railway has already set forth to acquire one of the DE10 units.