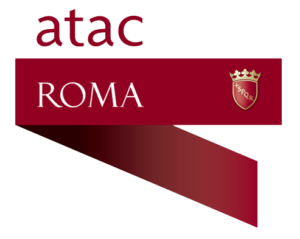 A.T.A.C.
ATAC (Azienda Tramvie e Autobus del Comune di Roma – "Rome city council company for busses and tramways") was formed in 1909, operating some minor busses, trolleybusses and tramway lines. ATAC's both tramways and trolleybus lines were closed by the late 1960s, with the company becoming a bus-only operator in 1972, running most of Rome's urban bus services.
In 2010, ATAC absorbed the Met.Ro. regionally-managed company, wich operated Rome's subway and regional railways.
As of today, ATAC operates Rome's urban busses, tramways, subway and regional railways. Due to a dreadful and gross mismanagement, nepotism, corruption and incompetence, ATAC is famous (and laughed at) for being one of the worst pubblic transportation companies in europe. One of it's lines, the Roma-Lido Line, constantly ranks (tie-in with EAV's ex-SEPSA Cumana and Circumflegrea Lines) as Italy's worst railway line.
Roma-Lido Line