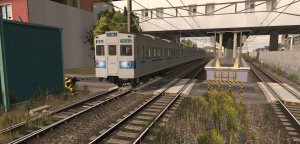 DOWNLOAD All the necessary dependencies are either included in this package or are avaible on the DLS. Soundscript by Rizky_Adiputra.
These are ex-Toei Mita Line 6000 Series trains bought second-hand by Chichibu Railway in 1999 to replace the four non air-conditioned 2000 Series sets (ex Tokyu 7000 Series trains) then assigned to local services on the Chichibu Line.
A total of four 3-car sets were purchased from Toei, for a total of 12 cars, all part of the 2nd batch of the 6000 Series, wich had been built in 1972 by Alna Koki and Nippon Sharyo with Hitachi electrical equipment for the southward exension of the Mita Line from Sugamo to Hibiya.
Upon their purchase by Chichibu Railway, the former 6000 Series cars undergone some modification and adaptation works, carried out by Keio Railway's Keio Heavy Equipment Maintainance Co., for their new role as rural commuter trains.
Modifications made included the replacement of the radio antennas (from the distinctive inductive loop type to an unassuming "horn"-style one), door chimes were installed, and the necessary equipment for "wanman" driver-only operation (in-car fareboxes, fare displays, semi-automatic selective door opening) was retrofitted.
Classified as the 5000 Series, the three trains entered service in late 1999, replacing all the non-air-conditioned 2000 Series sets within a year.
Currently, the first three sets are still in service as of today – the fourth one was involved in an accident at a level crossing on the 1st of November 2011, suffering extensive damage and was subsequently written off and scrapped.
Depsite having passed 50 years of age, there are no plans to replace the 5000 Series yet, altough the introduction of the relatively newer 7000, 7500 and 7800 Serieses (ex Tokyu 8500 and 8090 Series trains) is increasingly sidelining the 5000 Series to off-peak and reserve duties. Sometimes 5000 Series sets are also used on "Chichibuji" Rapid services if the dedicated rolling stock (the 6000 Series, ex-Seibu 101 Series trains) is unavailable.
Bonus:
The JTSB (Japan Transport Saftey Board) report on the 2011 level crossing accident.