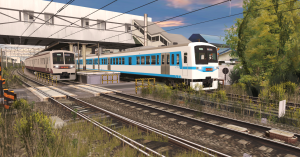 Left: "revival" livery (set 6003) – Right: "standard livery"
All the necessary dependencies are included in this .rar, included or are avaible on the DLS.
DOWNLOAD These were introduced in 2006 as a replacement for Chichibu Railway's 3000 Series (former JR East 165 Series trains wich were bought second-hand in 1992 and subsequently refurbished) on "Chichibuji" ("Chichibu Road") express services on the Chichibu Line.
Depsite having been extensively refurbished in 1992, the three 3000 Series still retained most of their 1960s-vintage equipment, wich by the early 2000s had severely deteriorated, especially the wiring of the main electrical circuit. Faced with the option to refurbish the 3000 Series a second time or the purchase of new rolling stock, Chichibu Railway went for the latter option, deciding to purchase three surplus New 101 Series sets from Seibu Railway in 2005.
To make them better suited for express services, the three sets were heavily modified: modifications included the removal of the central passenger door, the replacement of the longitudinal seats with reclining cross-seats coming from a Seibu 10000 Series "New Red Arrow" set, the changing of the headlights to a square type, the fitting of an LED "service indicator" between the headlights, the fitting of one-man operation-capable equipment and several other minor modifications (such as the replacement of the pneumatic wipers with electrical ones and the installation of a front skirt).
The first of the three 6000 Series trains entered service on the 15th of March 2006, with the other two following suit, replacing the older 3000 Series by the 26th of November. As of today, all three 6000 Series sets (numbered 6001 to 6003) are in service, with their status mostly unchanged since their introduction. The only notable change to a 6000 Series sets was made in 2014, when set no.3 had it's livery changed from the "standard" blue-white one to a "revival" cream-brown one inspired by the one carried by 300 Series sets (the "original" Chichibu Railway express trains) between 1956 and 1986.