Part of the Tokyu 8090 & 8590 Serieses pack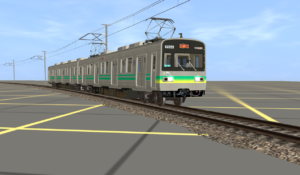 DOWNLOAD As with the Tokyu 1000 Series pack, all the dependencies are either included in this pack or are avaible on the DLS, except for the pantographs wich must be downloaded from Rizky's website (they're included in the freeware EMU packs).
An unsung career with an unexpected epilogue.
Around 2010, the Chichibu Railway in Saitama Prefecture ran most of it's services with ex-JNR 101 Series trains of 1957, wich after more than 50 years of hard work, were now almost crumbling. A solution was urgently needed, and the Oimachi Line surplus cars were one.
Chichibu Railway bought as much cars as it needed: seven 3-car sets classified as the "7800 Series" (derived from former 8090 Series sets, both with high and low headlights), wich entered service in 2010; plus four 2-car sets classified as the "7800 Series", wich were converted from 8090 Series intermediate motor cars and entered service in 2013. These were all former Oimachi Line cars, and they retained their distinctive "gradation" head band, altough with light green instead of red.
The 7500s and 7800s were also joined on the Chichibu Railway by the two 3-car sets of the 7000 Series, also former Tokyu stock (8500 Series), introduced in 2009. The three togheter replaced all the 12 1000 Series sets (the ex-JNR 101s) by 2014.