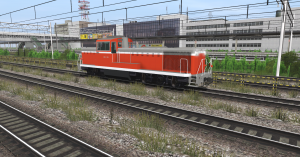 DOWNLOAD All the necessary dependencies are either included in this package or are avaible on the DLS.
DE11-1901 was built by Nippon Sharyo in 1974 as a prototype to test noise-reducing equipment intended to be fitted to future members of the class for services in freight yards close to residential areas.
The unit was basically a standard DE11-1000 fitted with several modifications, most notably a silencer was added to the exhaust and the engine compartment was soundproofed. To improve the drivers' comfort, air conditioning was also fitted in the driving cab, a first for Japanese locomotives. Results were relatively good, but not enough. Therefore, the full-production "soudproofed" DE11s, classified in the "-2000 Subseries" were built starting from 1979 with a slightly longer bodyshell, wich allowed for a better placement of the equipment and thus more efficient noise-reducing.
Originally assigned to Shin-Tsurumi yard, with the privatization of JNR, DE11-1901 was inherited by JR East and reassigned first to Chigasaki and then to Utsunomiya depot, where it remained in service until 2000, when it was retired and scrapped.