Made in collaboration with TreinspotterJeffrey/Sanyo J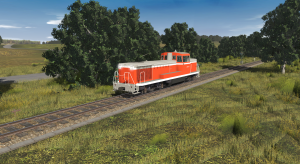 DOWNLOAD All the necessary dependencies are either included in this package or are avaible on the DLS.
The Hachinoe Rinkai Railway owns only one DE10 unit: no.1761 wich the company had purchased from JR East in 2004. It's currently in regular use on the 8,5Km-long Hachinoe Rinkai Railway line, togheter with a DD16 (also bought second-hand from JR East) and the rest of the company's diesel locomotives.
As the Hachinoe Rinkai Railway has no dedicated maintainance facility, for repairs, overhauls and even regular maintainance, DE10 1761 has to be towed all the way from Hachinoe to JR East's Akita or Morioka vehicle maintainance centres.