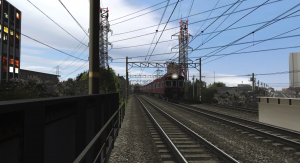 DOWNLOAD This is a Reskin. In order for this train to work, you'll need to download and install first the original Hankyu 2300 Series made by Keimei and avaible on the DLS.
The 3000 Series for the Kobe Line was built as a "successor" for the earlier 2000 Series, being a further simplified and improved derivative of the latter. Introduced in 1967, these were intended to supplement the 2000 Series and earlier 1200 and 1300 Series as well as to replace all remaining 2-door commuter trains still in service on the increasingly busy Kobe Line. Like the 2000 Series, the 3000 Series trains were straight 1500v-DC only trains with a maximium speed of 110Km/h.
The 3100 Series was introduced two years later, in 1969. These were intended for the Takarazuka Line, and as such were fitted with the same 600v DC equipment predisposed to beconverted to 1500v DC at a later date.
In total, 114x 3000 Series cars and 40x 3100 Series cars were built by the recently-renamed Alna Koki (formerly "Naniwa Koki" and later "Alna Sharyo"), a manufacturer owned by Hankyu Railway itself, between 1967 and 1969.
Both serieses were formed either in 2 or 4-car sets, forming 6 and 7-car sets when needed.
Starting from the mid-1970s, both serieses began to be retrofitted with air conditioning, and ultimately, by the early 1980s all the trains from both serieses were reformed into 8-car sets with the addtion of newly-built intermediate trailers.
Finally, the last 3X00 Series variant, the 3300 Series, was introduced in 1967. These were designed jointly with the Osaka Municipal Transportation Bureau, as they were intended for trough-services with the under-construction Sakaisuji Subway Line.
To match the Muncipal Subway's 60 Series, the bodyshell of the 3300 Series was 100mm larger and 100mm shorter than other "standard commuter trains" of Hankyu Railway. The performance specifications were also "tweaked" to match the 60 Series as well.
Built by Alna Koki as well, a total of 126 cars was built between 1969 and 1967, with six additional intermediate trailers being built in 1979. The 3300 Series trains were initially formed as 7-car (3+4) sets, but were later re-formed as 6-car sets when trough-services with the Sakaisuji Subway Line began in 1969. Starting in 1982, the 3300 Series began to be retrofitted with air-conditioning, and the whole fleet was later reformed as 8-car sets between the late 1980s and the early 1990s.
With the introduction of the 9000 Series in 2006, the 3000 and 3100 Serieses for the Kobe and Takarazuka Lines began to be replaced, with the last 3100 Series sets being retired on the 8th of July 2016. The 3000 Series managed to "hold on" a little longer, being retired in February 2020.
Currently, only the 3300 Series is still in regular service, but retirement of these trains is expected soon.