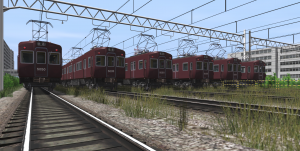 DOWNLOAD This is a Reskin. In order for this train to work, you'll need to download and install first the original Hankyu 2300 Series made by Keimei and avaible on the DLS.
These were manufactured between 1968 and 1969 to supplement the 3000 and 2000 Serieses on Kobe Line services after the opening of the Kobe Rapid Transit Railway, an underground link line trough Kobe wich allowed Hankyu Railway to run trough-services with the San'yo Railway. A total of 47 cars was made by Alna Koki between 1968 and 1969, being initally formed as 3+3 car sets, later lenghtened to 7 and 8-car sets.
These were Hankyu Railway's last new trains built without air conditioning – production of 5000 Series trains stopped at Set No.14, with further orders being changed to the 5200 Series, wich had been retrofitted with air conditioning from the start.
Air conditioning was eventually retrofitted to these trains as well, between 1973 and 1974.
Finally, starting from 2002, all the 5000 Series sets were refurbished and rebuilt by Alna Koki, radically changing the trains' appearance, with the front being rebuilt to a style similar to the one of 8000 Series trains.
Currently, all 5000 Series trains are still in service in their "post-refurbishment" appearance and formed in 8-car sets.