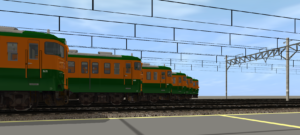 DOWNLOAD This is a reskin of Keinchiro's 113 Series upgraded by Hirochi. All the necessary dependencies are included in this package or are avaible on the DLS.
The 113 Series had been an higly successful design and a farcry from it's pre-war, wartime and post-war predecessors, but it had a flaw: it was designed almost exclusively with the Tokaido Line in mind, wich was a mostly flat line running trough warm areas.
As such, the 113 Series wasn't designed for cold areas or mountainous lines (and often the two coincided). Therefore JNR immediately designed a derivative able to cope with harsher climate.
The 115 Series was introduced in 1963 (a few months after 113 Series trains had entered service) and immediately entered service on the Utsunomiya, Takasaki and Joetsu Lines north of Tokyo and on the Shin'etsu Main Line between Niigata, Nagano and Tokyo, where they were assisted by EF63s and EF62s on the steeply-graded Usui Pass section.
Later, they were introduced also on the Chuo Main Line, the San'yo Main Line, the Minobu Line and on various smaller mountainous lines in the Nagano and Niigata prefectures.
With the exception of the Chuo Main Line (Tokyo area section) and Minobu Line trains (wich were painted in the Yokosuka livery and red Minobu Line livery, respectively), all the 115 Series trains were painted in the same Shonan Livery of the 113 Series (altough with a few differences, namely on the front).
As successful as the 113 Series, a total of 1921 cars was manufactured between 1963 and 1983 – production lasted for 20 straight years!
When JNR was privatized, in 1987, the fleet of 115 Series trains was split between JR East, JR Central and JR West, with more than half being inherited by JR East.
As of today, only a total of 332 115 Series units is in service, mostly with JR West in the Setouchi Area, but there are also a few sets still in service with JR East in the "115 Series stronghold" of Niigata. All of these are slated for replacement, as most trains are now atleast 40 years old.
The third-sector Shinano Railway (wich took over the Shin'etsu Main Line from JR East in 1997) also has inherited a quite large fleet of ex-JR East 115 Series trains, but these too are bound for replacement.