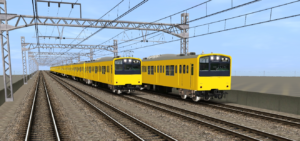 This is a reskin of the Chuo Line 201 Series by Rizky_Adiputra.
All the necessary dependencies are included in this package, avaible on the DLS or from Rizky's website 
Reskinned with permission.
DOWNLOAD After the Chuo Line, the 201 series trains were introduced on the Chuo-Sobu line, with deliveries starting in 1982. The aim was to replace the 101 Series and supplement the 103 Series.
The decision of introducing 201s on the Chuo-Sobu Line instead than on other relatively busier lines was a purely practical one: the Chuo and the Chuo-Sobu Lines share the same depot at Mitaka, wich meant that the entirety of the 201 Series fleet could've been assigned to a single depot, wich meant that maintainance could've been greatly simplified.
Fitted in the canary yellow of the line, they entered service in 1982 and were delivered until 1983, when JNR decided to stop 201 Series production as it had become too expensive. Due to this, the 201s weren't able to replace neither the 101s nor the 103s. To supplement standard 201s, the prototype 201-900 series also was transferred to the Chuo-Sobu line in the mid-1980s.
After the privatisation, JR East attempted to continue the work of the 201 Series with it's new-production 205 Series, but neither them could finish the job. 201 Series trains ran on the Chuo-Sobu Line until 2001, when they were replaced (along with all the older stock, wich included the 103 and 205 series trains) by the 209-500 and E231-0 Serieses, introduced in 1998 and 2000 respectively.