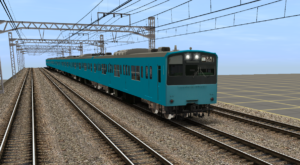 This is a reskin of the Chuo Line 201 Series by Rizky_Adiputra.
All the necessary dependencies are included in this package, avaible on the DLS or from Rizky's website 
Reskinned with permission.
DOWNLOAD The Tokyo area wasn't the only one to get the brand-new 201 series trains: they were also introduced around the same time in the Kansai area.
The 201 series entered service in Kansai in 1982, when they were intrdouced on Tokaido Main Line local services (between Kyoto and Nishi-Akashi, via Osaka and Kobe, a service wich was nicknamed "Keihansin Line" by JNR). Even here they were introduced to replace ageing 103 and 101 Series sets, but unlike their eastern counterparts, they were formed in shorter 7-car sets.
As 201 Series production stopped in 1985, JNR decided to continue the replacement of the 103 Series by introducing the 201 Serieses' cheaper, improved and easier-to-build derivative: the 205 Series, wich were introduced on the Keihanshin Line in late 1985.
n 1997 their service was extended to the Kosei line north of Kyoto, to Ohmi-Imazu. This meant that Tokaido line sets did the longest regular service of any other 201 Series, at 155 Km in lenght (calling at all stations), altough the drivers were usually changed at Osaka station.
Starting from 2004, the 201 Series underwent JR West's N40 refurbishment program, and returned in service on the Tokaido Line under a new, renewed aspect, altough it lasted little as the 321 series, introduced in 2005, replaced both the 201 and 205 series by 2007.
As they were retired from Tokaido Line duties, JR West decided to move the 201s to an another line, but not an interurban, less-hevily used line. They were transferred to the Osaka Loop line.