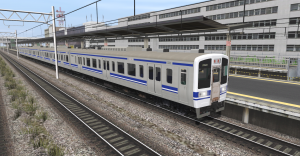 All the necessary dependencies are included in this .rar, included in the original content's package or avaible on the DLS.
DOWNLOAD Historically, the Nagoya area had been very neglected by JNR, wich, due to more pressing issues with the Tokyo area and cross-country mainlines, always relegated both the Osaka and Nagoya metropolitan areas (the latter far more than the former) commuter trains to the bottom of the "to-do" things list.
At the time, Nagoya's commuter train fleet was essentially formed exclusively of 113 Series trains, wich were unsuitable for urban services, and a small, insufficient, detachment of six-car 103 Series trains, wich had been transferred to Nagoya, almost as an "emergency", mesaure in 1977. Thus, JNR's role in the Nagoya area remained a far secondary one, with the bulk of passengers being shared between Meitetsu railway and the private automobile, a situation that partially persists to this day.
Thus, in an attempt to improve it's image and to have additional income on neglected lines, JNR introduced a dedicated rapid suburban service in the Nagoya area, dubbed "City Liner", a name that JNR had been using for some time on similar services in Hiroshima and in the Kyushu area. However, this was the first time that "City Liner" services got dedicated brand-new stock, in the form of two 211 Series 4-car sets, wich were fitted in a dedicated blue livery with a white line. Plans  for a widespread introduction of 211 Series units in the Nagoya Area were however delayed by JNR's privatization. It's successor in the region, JR Central, would soon go on with such plans, ordering it's own "custom" versions: the -5000 and -6000 subserieses.