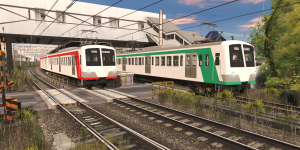 Left: red livery set no.2, Right: green livery set no.1
All the necessary dependencies are included in this .rar, included or are avaible on the DLS.
DOWNLOAD In the early 2000s Joshin Railway was looking for a suitable replacement for it's ageing, non-air-conditioned 200 Series trains. To this end, Joshin Railway approached Seibu Railway (with wich it already had a long-standing relation) to purchase a few second-hand trains. The choice fell on the New 101 Series, of wich Seibu Railway had a copious surplus, having replaced the vast majority of them with 4-door trains.
Furthemore the New 101 Series trains shared several technical components (bogeys in particular) with several other Joshin Railway trains, such as the 1000 and 6000 Serieses, making their purchase particularily attractive.
In the end, Joshin Railway acquired two 2-car sets in 2005. Both trains re-entered service in the same year on the railway's only line, reclassified as 500 Series sets no.1 (painted in a cream and green livery) and no.2 (paint in a cream and red livery). Both sets are currently still in service, shuttling daily between Takasaki and Shimonita on the Joshin Railway line.