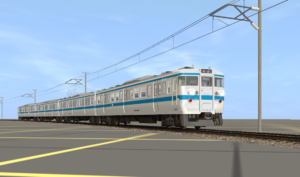 DOWNLOAD This is a reskin of Keinchiro's 113 Series upgraded by Hirochi. All the necessary dependencies are included in this package or are avaible on the DLS.
111 Series trains had been originally designed in 1960 as a replacement for the old 80 Series trains still used on the Tokaido Main Line. They were a "DC-only" version of the 401 Series built at the same time for Joban Line services.
As such, it shared most of it's predecessors' components, such as the MT46 traction motors, a similar bodyshell and TR62 bogeys with disc brakes. The 111 Series was higly successful, and from 1963 onwards. production switched to the largely improved 113 Series, wich would become one of Japan's most famous trains. With the large influx of new 113 Series trains, the small fleet of 111s was relocated several times, to Hiroshima, Shizuoka, Otori and Nara, being used as "filler" trains where there was need for extra rolling stock.
When JNR was privatized in 1987, all of it's assets (including the rolling stock) were provisionally handed over to the temporary "JNR Settlement Corporation", wich had the task to physically split JNR assets between the seven newly-formed JR companies, mostly by reassigning rolling stock and transferring land and line ownership.
At the same time, the 111 Series fleet was slated for scrapping, but as the 1500v DC electrification projects on Shikoku island (wich had been initiated by JNR in it's later years) came to completion, there was a need for suitable rolling stock. As such, in 1987, three 4-car 111 Series trains were handed over by the JNRSC to the newly formed JR Shikoku, followed by two more sets in 1988.
These were repainted from their original Shonan livery into a white livery with light blue lines (JR Shikoku's company color), and lightly modified, replacing damaged components and adding air conditioning (with the full fleet being retrofitted by 1989).
Still formed in 4-car sets, the small fleet of 111 Series trains entered service in April 1988 on rapid services on the Honshi-Bishan Line (Utazu to Chayamachi – the central portion of the Seto-Oashi Line, crossing the Seto Oashi bridge), later their service was extended to cover the whole of the Seto-Oashi Line, from Okayama to Takamatsu or Kotohira, always as rapid service trains.
Occasionally, they did also run local services on the Yosan Line (Takamatsu to Kotohira), where they were advantaged by their superior capacity compared to the newly-built 121 Series trains, but as their age quickly began to show, JR Shikoku sought a replacement.
Based on the 211 Series, but with modern GTO-VVVF inverters, JR Shikoku's 6000 Series entered service in 1996 to replace the 111 Series, wich by then had severily deteriorated.
The last 111 Series train was retired in 2001, after a 40-years long career.
Due to their historical importance, after their retirement, many KuHa cab cars were repainted into their original Shonan livery and are now preserved in museums and "railway parks" around Japan, such as the SCMaglev and Railway Museum in Nagoya and the Sakuma Rail Park in Hammatsu (Shizuoka Prefecture).