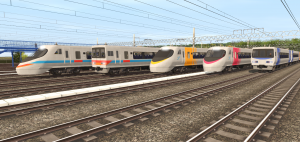 Original livery (1992-2006) on the left, current livery (from 2004 onwards) on the right.
DOWNLOAD All the necessary dependencies are either included in this package or are avaible on the DLS.
(Consists are included! Don't bother with placing individual cars!)
The 8000 Series was developed in the late 1980s and early 1990s as the electric counterpart of JR Shikoku's 2000 Series tilting DMUs and was intended to give JR Shikoku some competitive margin against the rapidly-developing Shikoku expressway network.  As with the 2000 Series, JR Shikoku opted for a tilting train as a way to achieve high speeds on the island's winding railway network without embarking in expensive track straightening projects.
Built by Hitachi and Nippon Sharyo, an initial prototype 3-car set was delivered in March 1992 and put in service on the Yosan Line on some Ishizuchi services between Takamatsu and Niihama and on some Shiokaze services between Niihama and Okayama, via the Seto Ooashi Bridge. Following the initial good results, JR Shikoku proceeded to place an order for six 3-car sets and another six 5-car sets.  A distinctive trait of the 8000 Series was it's two different cab styles in each set: a very aereodynamic and slanted one, and a flat one with a ganway in the middle. The rationale between this was that a 3-car set and a 5-car set would've run coupled on the flat side and then uncouple at a designated station, with each set going in a different direction on a different limited express service, and vice-versa, two services coupling at a designated station and then continuing to the terminus of both as a single train.
On the 18th of March 1993, with the electrification of the final missing section of the Yosan Line, between Iyo-Hojo (a little north of Matsuyama) and Niihama, full 8000 Series service started, with the new tilting trains being assigned to all Ishizuchi and Shiokaze services, replacing immediately the older KiHa 181 and KiHa 185 JNR-designed non-tilting DMUs.
As such, by the mid-1990s 8000 Series trains ran the vast majority of both Ishizuchi (between Takamatsu and Matsuyama) and Shiokaze (between Matsuyama and Okayama) services, with only a small minority of Ishizuchi services running to Uwajima being operated by 2000 Series DMUs.
In standard practice, Shiokaze services are assigned to 5-car sets, and Ishizuchi services are assigned to 3-car sets. The two trains run coupled togheter from Matsuyama to Utazu, where they split, with the Shiokaze going towards Okayama, and the Ishizuchi continuing towards Takamatsu.
From a technical standpoint, the 8000 Series design was derived directly from the 2000 Series, using the same stainless steel bodyshell, bogey frame and tilting system. Like the 2000 Series, the 8000 Series is designed for a top speed of 130Km/h in revenue service, altough during testing, on the 8th of August 1992 the prototype set hit 160Km/h.
Originally delivered in a blue livery with red and orange accents, as part of a refurbishment program between 2004 and 2006 all 8000 Series sets were repainted in a new dark blue, orange or red livery, denoting the type of seating of the car: non-reserved, reserved and "Green Car" respectively.
Currently, all six production sets are still in service, assigned at Matsuyama depot and used on Shiokaze and Ishizuchi services. Depsite the introduction of the 8600 Series in 2014, a tilting train of equal performance, there are no current plans to replace the 8000 Series, especially considering JR Shikoku's dire financial situation.
Trivia:
As one of JR Shikoku top-line trains, the 8000 Series is often used for charter services. On the new year's eve of 1994 one set was used for a charter between Matsuyama, Tadotsu and Kotohira for groups going to Konpira and Zentuji shrines. Another set was used in 2004 as a charter train between Osaka and Kyoto, and finally in 1993 one set was used by the then-emperor and emperess (the current emperor and emperess emeritus) to go to the yearly Zenkoku Yutakana Umi Zukiri Taikai (an event to sensibilize on the conservation and well-being of marine life, a keen personal interest of the emperor) wich that year was being held in Niihama.