Requested by Andy1758 on the Auran trainz forums.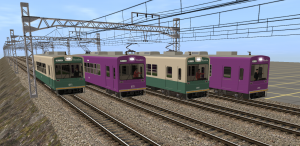 DOWNLOAD All the necessary dependencies are either included in the package or are avaible on the DLS. Dependencies not mine are property of their respecitve authors.
The 611 Series (and the nearly-identical 621 and 631 Serieses) were built in a total of 14 units between 1990 and 1996. They were intended to replace the old MoBo 111 Series, wich was built in 1929 and refurbished in 1950 and to increase capacity on the "Randen" network, as ridership was finally increasing after decades of decline.
Due to financial constraints, the 611, 621 and 631 Serieses were built using pantographs, bogeys, traction motor, driving desks, and the camshaft and resistor control from withdrawn Mobo 111 Series units, wich they were intended to replace. In other words, the only new thing on these railcars was the bodyshell, wich was based on the one of the MoBo 501 Series, but with several changes, such an entirely redesigned front with top-mounted headlights. The construction of the new units was contracted by Keifuku Electric Railway to Hanshin Railway's Mukogawa workshops.
The new 611, 621 and 631 Serieses entered service in 1990, all painted in the then-standard Randen's dark green and cream livery, and progressivley took over the most difficult runs from the increasingly tired older stock.
In 2000, coinciding with the 90th anniversary of Randen's Arashiyama Line, the Keifuku Electric Railway ordered two more cars: the 2001 Series (units 2001 and 2002). These were again built by Hanshin Railway's Mukogawa workshops, and used the exact same bodyshell as the 611, 621 and 631 Serieses built four years before, but unlike them, the new 2001 Series was completely new, even in the mechanical and electrical parts, most notably it uses an IGBT-VVVF inverter with three-phase AC motors, cardan drive (as opposed to the nose-suspended motors of the old stock) and a modern single-arm pantograph.
In 2011, coinciding with the 100th anniversary of the Arashiyama Line, many of the Keifuku Electric Railway railcars underwent a livery change: from the standard old-fashoned green-cream one to a brand new all-body "Kyoto Purple" one. Most of the fleet has been repainted, but as of today it isn't rare to find one railcar still in the old livery.
Nowdays, the 611, 621, 631 and 2001 Serieses are used seamlessly on the Keifuku Electric Railway's two lines (the main Arashiyama Line and the secondary Kitano Line) as they form the bulk of the Randen fleet. They generally travel "alone", but 2-car trains aren't unheard of, especially in the morning and evening rush hours.
Trivia:
With the introduction of the 2001 Series in 2000, the Keifuku Electric Railway jumped straight from rheostat-controlled nose-suspended motors (of 1930 design, and in some cases, even construction) to cardan-drive IGBT-VVVF-controlled AC three-phase motors.