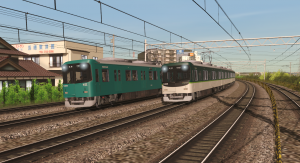 Left: original livery (2002-2010 circa) Right: current livery (2009-today)
DOWNLOAD This is a Reskin. In order for this train to work, you'll need to download and install first the original Keihan 10000 Series made by Keimei and avaible on the DLS.
The 10000 Series was introduced in 2002 for services on Keihan Railway's Uji and Katano lines, where they were intended to replace worn-out stock (such as the 1900 and 2600-0 Serieses) and to allow one-man operation on said lines as well, in order to save operating costs.
Derived from the earlier 7200 and 9000 Serieses (introduced in 1995 and 1997 respectively) for Keihan Main Line local services, a total of six 4-car sets were manufactured between by Kawasaki Heavy Industries; the first three sets were made between March and April 2002 and the other three were made in 2006. The 10000 Series began regular services on the Katano Line on the 15th of April 2006.
While being almost identical to the 7200 and 9000 Serieses, the 10000 Series fetaured several improvements compared to it's predecessors, such as being fitted with a very modern IGBT-VVVF inverter (compared to the relatively older GTO-VVVF type used by both earlier trains), an automatically-adjusting air-conditioning system and UV-resistant passenger windows.
Originally delivered in a distinctive all-over teal green livery, from 2008 onwards, Keihan railway began standardizing it's trains' livieries, introducing a new corporate livery based on white, dark green and a thin lime green line dividing the two.
The new livery was to be applied to all of Keihan Railway's local trains, and the 10000 Series was no exception: the first set to be repainted was No.4, wich re-entered service on the 27 July 2007. The 10000 Series fleet was completely repainted by 2010.
While intended for both the Katano and Uji Lines, the 10000 Series however was primarily used only on the former, and at times even exclusively, such as between 2008 and 2013. As of today, however, the 10000 Series is back running on both lines, being used interchangeably with the newer 13000 Series.
In 2015, set No.1 was moved to the Keihan Main Line and extended from four to seven cars with the addition of three intermediate cars wich became surplus when Keihan Railway decided to reduce the lenght of the Main Line's local service trains from eight to seven cars. Out of the three cars used to lenghten set No.1, two came from two different 9000 Series sets and one came from a 7200 Series set. In 2017, another 10000 Series set, this time No.2, was moved to the Main Line and lenghtened to seven cars as well.
As of today, all six 10000 Series sets are still in operation: Nos. 3 to 6 as 4-car sets on the Uji and Katano Lines and Nos.1 and 2 as 7-car sets on the Keihan Main Line.