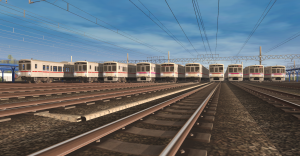 From left to right: original "unpainted front" style for 1st batch trains (1984 to 1988), 1st batch trains with painted front (1988 to 1992), 1st batch trains with front skirt (1992 to 2002) and 1st batch trains in the current Keio livery (2002 to today), newer batch trains with front red whiskers (1987), standard livery (1987 to 1992), front skirt (1992 to 2002), current livery (2002 to today) and the various post-2000 modifications: single-arm pantographs (2005 onwards), VVVF-conversion sets (2003 onwards) and the Kebajo Line 2-car set.
DOWNLOAD All the necessary dependencies are either included in this package or are avaible on the DLS. Scripts belong to their respective owners.
(Consists are included! Don't bother with placing individual cars!)
The 7000 Series was introduced in the mid-1980s to replace the last surviving pre-1960s "green trains" on local services thruought the Keio network.
These so-called "green trains" (due to the all-over green livery they carried), such as the 2000 Series, had been introduced in the post-war years and had been built until the late 1950s, and had been all displaced to local services in the 1970s, with the introduction of the 6000 Series. A solid decade later, Keio railway finally put down plans for the introduction of a new type of train dedicated to local services.
Originally envisioned as a direct derivative, if not an identical train with only a few differences from the 6000 Series, however the design evolved over time into an entirely different train. A key change was in the bodyshell material, with Keio opting to abandon the conventional steel it had used until then in favour of a stainless steel bodyshell, wich was rapidly becoming the new standard for all Japanese railways, from major private railways to the JNR.
Otherwise, the 7000 Series retained many fetaures from the 6000 Series, including the same dimensions, overall shape and, most importantly, the same traction and other technical equipment such as bogeys, so as to match the two trains' performance as best as possible and to simplify maintainance.
A first batch of Keio's new local train was delivered between March and November 1984, replacing the last remaining 2000 Series sets in service, consisting of ten 5-car sets with intermediate cars manufactured by Nippon Sharyo and cab cars manufactured by Tokyu Car Co. These were followed suit by two identical sets delivered in March 1986.
Another batch of three trains was delivered between October and November 1988, this time formed as 8-car sets (again, jointly manufactured by Nippon Sharyo and Tokyu Car), and finally twelve intermediate pantograph cars were delivered in March 1987 to lenghten the twelve 5-car sets to six cars.
Another five 8-car sets were delivered between November 1987 and December 1991; unlike the previous sets, these ones were of an improved and simplified design, such as using an updated construction techique using lightweight reinforced stainless steel sheets, eliminating the need for side corrugations, and having a cream-coloured FRP front mask of a simplified design. All five of these sets had also been jointly manufactured by Tokyu and Nippon Sharyo, except the last one, delivered in 1991, wich had been built by Nippon Sharyo only.
For clarity, i'll refer to the pre-1987 trains as the "1st batch", and the post-1987 ones as the "newer" trains.


The first two trains of this batch, that had been delivered in November and December 1987, fetaured two red "whiskers" on the front, between the front windows and the destination board. These were later quickly removed when the other sets in the batch (wich did not have them) entered service. Likewise, the unpainted cab cars of the 1st batch sets were all repainted in a cream colour around 1988 to match the newer trains.
Between 1990 and 1992 seven of the 6-car sets of the 1st batch were lenghtened again, this time to eight cars, by adding two newly-built cars in each set.
The remaining five sets instead remained formed as 6-car sets, intended to be used togheter to form 10-car sets with five matching 7000 Series 4-car sets delivered in 1993.
One year later, in 1994, five 2-car 7000 Series sets were introduced for the first time, intended to be used coupled to 8-car sets to form 10-car sets during rush hour, a practice that was already well in place with the 6000 Series, and finally, between February and March 1996, the last 7000 Series cars were delivered, consisting of 10 intermediate cars intended to permanently lenghten five 8-car sets to ten cars.
By then, Keio's 7000 Series had reached a quite sizeable 190 cars, formed as either 10-car, 8-car, 6-car, 4-car and 2-car sets. Around the same time some modifications to the existing trains were made, with a front skirt being added to all trains by 1992, and in 2002 the whole fleet was repainted in Keio's new magenta and blue livery.
The early 2000s saw modifications continue, with two surplus 4-car sets being modified and assigned as reserve for the Doubutsuen Line, and at the same time two 2-car sets were likewise modified and assigned as reserve for the Kebajo Line.
Conversion from the shunt-chopper system to an up-to-date IGBT-VVVF inverter began in 2003 for some sets (indistinctively between 1st batch and newer trains) and carried on until 2012, coinciding with a general interior refurbishment for the whole fleet, wich included the fitting of new seating, automated announcments and LCD passenger information displays. Some sets (overlapping with the VVVF-conversion sets) were also fitted with a single-arm pantograph in lieu of the standard diamond one starting from 2005.
In 2010 a general reformation of the fleet was carried out, with 8-car trains being reformed into 10-car sets or 6-car sets.
With the definitive retirement of the 6000 Series in 2011, 7000 Series trains began regular service on the Kebajo and Doubutsuen Lines since January and March 2011 respectively, with one-man-converted 7000 Series trains operating as 4-car or 2-car shuttles.
As of today, the vast majority of 7000 Series trains, 160 out of 190 cars built, are still in service thruought Keio's 1372mm network, and altough there isn't a definitive replacement plan yet, some retirements and scrappings have already begun, among the 30 cars currently scrapped figure three entire sets (of 10, 8 and 6 cars respectively), made redundant by the introduction of the newer 5000 Series, and miscellaneous intermediate cars surplus from the shortening of the 8-car sets to six cars.
Specifically, Keio's 7000 Series fleet is currently formed of five six-car sets, nine 10-car sets, seven 4-car sets (five of wich usually used togheter with the 6-car sets and the other two assigned to the Doubutsuen Line) and five 2-car sets (two of wich assigned to the Kebajo Line).