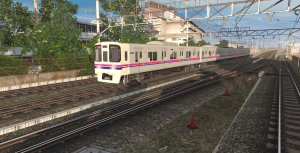 DOWNLOAD All the necessary dependencies are either included in this package or are avaible on the DLS. Scripts belong to their respective owners.
(Consists are included! Don't bother with placing individual cars!)
The 9000 Series was introduced by Keio Railway in the early 2000s as a replacement for the now 25-year old 6000 Series, especially on subway trough-services with the Toei Shinjuku Line.
Unlike on the above-ground lines, for wich new rolling stock purchases had been made with a certain regularity (depsite Keio's habit to introduce a new series only evry 10 to 15 years), the specialized trough-services were still run exclusively with dedicated 6000 Series sets (the 6030 Series specifically), wich had entered service with the start of trough-services in 1980, but however was a slightly older design, with the original 6000 Series sets having entered service in 1972.
This was due to a peculiar reason: the capricious analogue ATC system used by the Shinjuku Line at that time was somehow easily subjectable by electromagnetic interferences coming from inverter-type traction systems, hence VVVF-controlled trains were not permitted to run trough it. 
Toei had circumnavigated this issue for some time by continuing to purchase chopper-controlled trains, having in fact made the very last purchase of newly-built chopper-controlled trains (the 8th batch 10-000 Series sets) in 1997, a year when inverters had already become standard equipment on electric multiple units in Japan and worldwide as well. This of course wasn't a practical long-term solution – since choppers were now obsolete and out of production, it was only a matter of time before Toei was forced to purchase inverter-controller rolling stock, implying the adoption of a new ATC system. This was also aided by the very late 1990s the Shinjuku Line had neared the maximal number of trains allowed in service by the ATC system, and with congestion increasing, there was now also a need to increase the frequency of services.
Finally, in the early 2000s, Toei took the decision to replace the old ATC system of the Shinjuku Line with a new "Digital" D-ATC system derived from the one JR East was about to implement on the Yamanote Line.
With works underway to convert the Shinjuku Line to D-ATC, Keio Railway decided to order a new series of trough-service capable trains to replace the worn-out 6000 Series.
Designated the "9000 Series", these were to be built jointly by Nippon Sharyo and Tokyu Car Co. using the former's newly-developed "Block Construction System", wich the manufacturer had developed as a way to have some "competitional leverage" against the more widespread Tokyu and Kawasaki "Shin-Keiretsu-Densha" design and Hitachi's A-Train system.
Unlike the design work of the 9000 Series, the D-ATC conversion works on the Shinjuku Line were taking much longer than anticipated, due to their complex nature. However, Keio placed an order for the 9000 Series trains anyway, as the 6000 Series sets that needed to be replaced weren't assigned only to trough-services, but to many above-ground only services as well.
Thus, a first batch of eight 8-car 9000 Series sets was delivered in late 2000, entering service on the 24th of January 2001 on non-trough-service local trains between Shinjuku and Keio Hachioji (on the Keio Line) or Hashimoto (on the Sagamihara Line), being used interchangeably with the older serieses.
A peculiarity of these 9000 Series 8-car sets was that it was fitted with a multiple-unit control that enabled it to work togheter with 6000 and 7000 Series trains, usually in the form of a 2-car set being added to form a 10-car set for Rapid and Express services.
 The conversion to D-ATC of the Shinjuku Line was finally completed in 2005, with the switchover to the newer system on the 14th of May 2005. Later that year, Keio finally proceeded to order a new batch of 9000 Series trains "as they were meant to be", alas for subway trough-services.
The first two of these such sets were delivered in late 2005 and entered service in January 2006, running trough-services between the Toei Shinjuku Line and the Keio Line and Sagamihara Line via the Keio New Line. These new "trough-service capable" 9000 Series were classified as their own "9030 Subseries" and besides the necessary adaptations to subway trough-services (the fitting of D-ATC, a few changes in interior materials and some other minor modifications), are almost identical to the other 9000 Series sets.
Additional trough-service-capable 9000 Series steadily entered service in the following year, and with the delivery of the 18th set, in June 2009, there were enough 9000 Series trains available to take over the subway-trough services from the 6030 Series, wich was retired by the end of that month. 9000 Series deliveries continued briefly after the 6030 Series retirement, with two additional sets being delivered in July and August that year.
Thus, by summer 2009, Keio Railway had a total of twenty-eight 9000 Series sets at it's disposal: eight above-ground-only 8-car sets and a staggering twenty trough-services-capable 10-car sets.
Later that year, in November 2009, the last general overhaul of a 6000 Series car was performed – 6000 Series trains were all retired from Keio's 1372mm gauge main lines by the next spring, with the last runs in April 2010.
After the retirement of the 6000 Series, the status of the 9000 Series has changed very little, with all twenty-eight sets still in service, with the only hiccup these trains had until now in their otherwise uneventful careers being the discovery of some cracks in the bogeys of motor cars due to metal fatigue, issues that were quickly repaired and dealt with.