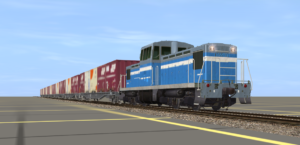 DOWNLOAD This is a reskin of Keimei's JNR DD13 Diesel Locomotive avaible on the DLS. All the dependencies used in this model are the original ones.
The Keyo Rinkai Railway owns a total of eight locomotives: four older KD55s (101, 102, 103, and 201) and four newer KD60s (1 to 4). The company also used to own one more KD55, unit 105, wich was sold in 2012 to the Sendai Rinkai Railway to replace a locomotive destroyed by the 2011 Tsunami.
There isn't much information avaible on the KD55s; as with many other locomotives for industrial and portual railways, they were closely based on the DD13s in use by JNR at that time. Notably, a few of Keiyo Rinkai's KD55 (among those, units 103 and 105) are actually ex-JNR DD13s bought sometime after their withdrawals.
Trivia:
As the Keiyo Rinkai Railway does not have rolling stock maintainance facilities, it's KD55s and KD60s are repaired and maintained by JR Freight's Omiya depot and maintainance center.
Because neither of the locomotives is equipped with ATS or any other saftey system, they can't run on their own on JR tracks, so they must be hauled by a JR Freight locomotive all the way from Soga station (the connection with the JR network) to Omiya and back.