Made in collaboration with TreinspotterJeffrey/Sanyo J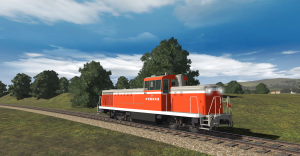 DOWNLOAD All the necessary dependencies are either included in this package or are avaible on the DLS.
The Kinuura Rinkai Railway currently owns four KE65 Diesel locomotives, numbered 1 to 3 and 5, two of them having been delivered in 1975 for the opening of the Handa Line, followed by two more in 1977 for the opening of the Hekinan Line. Later on, in 1984 the company sold units KE65 2 and KE65 5 to the Tarumi Railway. In 1990 the Kinuura Railway bought two surplus DE10-1500 units (later renamed KE65 2 and KE65 5) from the JNRSC, returning to a fleet of four units.
Currently, all four KE65s are in service, split 50-50 between the two unconnected lines operated by the railway.
Trivia:
The Kinuura Rinkai Railway likely deliberately jumped from KE65 3 to KE65 5, avoiding the number "4".
This is because in Japanese, "4" can be read as "Shi", wich is the same word used for "Death". In other words, in Japan the "4" is considered a bad luck number and is therefore generally avoided by most railway companies when numbering their trains (another example is the Kobe Municipal Subway or the Tokyu Railway – both have no "4000 Serieses" depsite having seemingly no reasons not to).