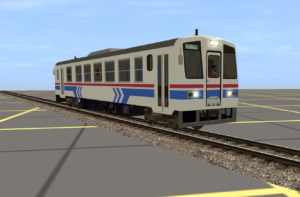 All the necessary dependencies are either included in this package or are avaible on the DLS.
In 1989, the final iteration of the first-generation NDCs entered service: the KT-100 and KT-200 Serieses for the Kumagawa Railway and the TR-100 and TR-200 Serieses for the Takachiho Railway.
These were largely identical to the earlier Matsuura Railway MR-100 Series, with the most notable difference being the addition of two top-mounted fog headlights.
The KT-100 and KT-200s were delivered in late 1989, upon the transferral of the Yunomae Line from JR Kyushu to Kumagawa Railway on the 1st of October. The two serieses were largely identical: the four KT-100s had longitudinal seating and were intended for "day-to-day" regular services, while the 3 KT-200s were intended for tourist services and were equipped with semi-cross seating. Both serieses were painted in an identical white livery with red and blue lines.
With the introduction of the KT-500 Series in 2014, all the older units were progressively retired, with the last KT-100 being retired in December 2014, with the exception of units KT-103 and KT-203, wich had been converted into the "Kuma" tourist train in 2009 and were retired two years later in 2016. All units were scrapped, except the "Kuma" ones, wich have been preserved at Asagiri Station.