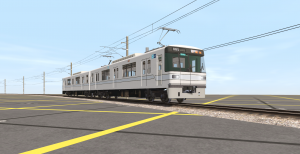 DOWNLOAD All the necessary dependencies are included in the pack or are avaible on the DLS (for example, the bogeys), except for the pantographs, wich must be downloaded from Rizky's website (jirctrainz.com – they're included in the "freeware EMU packs").
Not even before the retirement of the 03 Series from Hibiya Line services, the Kumamoto Electric Railway in Kyushu already set forth to acquire two 2-car sets to replace it's sole 200 Series set and to supplement the increasingly tired 6000 Series (wich are ex-Toei Mita Line 6000 Series from 1968).
A first 2-car set was bought on the 30th of July 2018 and was shipped to Kumamoto on the 15th of March 2019, entering in service on the following 4th of April. On the 13th of February 2020 the second set arrived too, entering in service on the 27th of April.
The two trains were heavily modified, notably, two single-arm pantographs had to be retrofitted on the roof of one of the two cars in each set and both trains had to be adapted for one-man operation. Depsite all the modifications, the trains keep both the "03 Series" designation and the Hibiya Line livery from their Tokyo Metro days. Furthemore, Kumaden decided to keep all the in-car advertisements as they were in Tokyo.
As of today, both 03 Series sets are in operation on both lines of the Kumamoto Electric Railway; the railway actually has plans to buy yet another 2-car set from Tokyo Metro, bringing the total to three 03 Series sets.
Trivia:

With the retirement of the 200 Series (wich was ex-Nankai stock), nowdays Kumaden operates only ex-Tokyo Subway trains, from both Toei and Tokyo Metro.