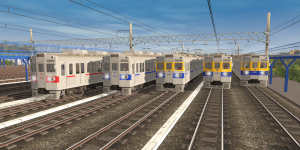 All five Kumaden 6000 Series sets in order from No.1 (left) to No.5 (right)
DOWNLOAD All the necessary dependencies are either included in this package or are avaible on the DLS. Soundscript by Rizky_Adiputra.
(Consists are included! Don't bother with placing individual cars!)
This relatively large fleet (for a rather small local railway) of ex-Toei Mita Line 6000 Series trains was introduced by Kumamoto Electric Railway in the 1990s to replace the company's older 500 and 600 Series trains, wich it had bought second-hand from Shizuoka Railway in the 1970s.
The first set of these "new old trains" was bought from Toei in 1995, when most 6000 Series trains were still operating on the Mita Line, the replacement with the 6300 Series having just begun. The set in question, formed of cars 6101 and 6108 (cab cars with and without pantograhps respectively), was indeed one of the first to have been replaced, being one of the oldest 1st-batch trains built in 1968 for the opening of the Mita Line, and also one of the only few that had not been yet retrofitted with air conditioning.
Following the purchase, the two cars were shipped to Kumamoto prefecture in Kyushu, making a little detour via Nishitetsu Railway's workshops, wich were contracted by Kumaden to adapt the ex-subway trains to it's particular needs:
distinctive "skeletronized" skirts were added to the fronts, one-man operation equipment was fitted, destination roller blinds were changedl, traction equipment was adapted for Kumaden's 600v DC catenary (instead of the standard 1500v DC one that these trains and air-conditioning was retrofitted, using four small-type air conditioning units typical of Japanese major private railways (such as Tokyu or Nishitetsu itself).
Maintaining it's original Toei series and car numbers, Kumamoto Electric Railway's 6000 Series entered revenue service on the 22nd of December 1995, among other things as the company's first air-conditioned train.
It was soon followed by a second set, formed of cars 6111 and 6118, themselves too early-replaced 1st-batch non-air-conditioned cars. After undergoing the same set of modifications, the second 6000 Series formation entered service a year and a day after the first, on the 23rd of December 1996. Initially, both sets retained their Mita Line-era blue livery, altough set No.1 (cars 6101 and 6108) was later repainted in a red livery.
The third 6000 Series set entered service for Kumaden on the 22nd of December 1999, almost exactly three years after the second one. This gap was due to some compatibility issues arising between Toei's 1st and 2nd batch 6300 Series train    and the signalling system to be used on the then under-construction southwards Mita Line extension to Meguro (wich it would've shared with the more advanced TRTA Namboku Line), thus forcing Toei to suspend the deliveries of 6300 Series trains until these issues would be ironed-out and consequently to temporarily halt the retirement process of the 6000 Series.
After these issues were solved, with the gradual entry into service of the massive 3rd batch 6300 Series order, the retirement of the 6000 Series likewise gradually restarted.
The third set, formed of 3rd-batch 6000 Series cars built in 1973 had undergone the same modifications of the other two sets, this time however minus the air-conditioning, as this set had already been retrofitted with air-conditioning during it's service with Toei. Another difference was in the livery, like the 2nd set, this set retained it's Mita Line-era blue livery, altough with the addition of a yellow band around the cab windows to make the train more visible at dark, especially considering Kumaden's street-running sections.
Finally, a further and final two 6000 Series sets were delivered to Kumaden, formed of cars 6221-6228 and 6231-6238 (all 2nd-batch cars built in 1972), and entering service on the 14th of December of 2000 and 2001 respectively.
These two were essentially identical to the third set, being already fitted with air-conditioning. Likewise, they were also fitted in a similar blue and yellow livery, only with different front details (a larger yellow window band for both and the extension of the blue front band to cover the whole front instead of only the headlights for the fifth set).
In total, by 2001 Kumaden had five 2-car 6000 Series sets in service, overshadowing the rest of the company's small fleet, wich after the full retirement of the former Shizuoka Railway 500 and 600 Series between 1996 and 1999 included only a lone ex-Nankai 200 Series 2-car set (wich the company had bought in 1998 to "bridge the gap" of the 6000 Series temporarily-halted retirement), and a pair of single-car ex-Tokyu 5000 Series trains, retained for services between Kami-Kumamoto and Kita-Kumamoto as the two 20m-long cars of a 6000 Series set couldn't fit into the short platforms of that sections, meaning that older 18m-long rolling stock had to be used instead.
As such, the five 6000 Series sets are used exclusively on services* between Miyoshi and Fujusakigu-Mae, the bulk of services operated by Kumaded (and the ones that pass trough it's famous street-running section).
The life of the 6000 Series has been relatively uneventful from their retirement until 2014, when two major changes happened: First of all, in summer of that year, set No.1 was involved in a collision with a car, wich badly damaged the set's bogeys and underframe equipment, meaning that it had to be written-off and retired from service. With repairs being uneconomycal, the set was scrapped later that november.
Secondly, Set no.4 was selected by Kawasaki Heavy Industries as an in-revenue-service tesbed for it's innovative efWING carbon-fiber frame bogeys, wich were fitted to the set in early 2014, with the same set being later repainted into a "Kumamon" livery based on the world-famous Kumamoto prefecture mascot, Kumamon.
However, age soon caught up with the 6000 Series, as by the late 2010s, all sets were well beyond 45 years of age (with set No.2 nearing 50!), hence, an urgent replacement was in order. After an initial good experience with two ex-Ginza Line 01 Series trains purchased from Tokyo Metro to replace the crumbling 5000 Series, Kumaden proceeded to order more ex-Tokyo Metro trains, with the company opting for the Hibiya Line 03 Series, some of the last trains 18m-type commuter trains built for the 1067mm narrow gauge, wich made them quite appealing for Kumaden, as it now meant they could've be used seamlessly thruought the whole network, without worring of platform lenght.
However, Kumaden was able to purchase only three 03 Series sets, before the "available stock" was depleted (either purcahsed by the other two railways that got second-hand 03 Series trains, Hokuriku Railway and Nagano Electric Railway, or quickly and hastly scrapped by Tokyo Metro), meaning that Kumaden was only able to replace two 6000 Series sets plus the lone 200 Series set (wich by then was used sparcely in regular services).
Counterindicatively, the two 6000 Series sets to be replaced were the last two to be introduced – Nos. 5 and 4 (the Kawasaki efWING one), wich were retired on the 31st of October 2021 and 27th of November 2020 respectively.
To replace the other two left in service (sets 2 and 3), Kumaden announced a surprise purchase of ex-Shizuoka Railway rolling stock, this time being the 1000 Series (another 1, wich had been built between 1973 and 1985 by Tokyu Car Co. (and as such were based on Tokyu stock such as the 8000 and 8500 Series). This choice is rather unusual, but it's quickly explained – first of all, the 1000 Series is another 18m-long-type commuter train, and secondly Shizuoka Railway still uses a 600V DC catenary voltage, as does Kumaden, meaning that the new trains could be transferred with little to no modifications, and thus rather cheaply.
Maintaining it's original classification, the first 1000 Series set (1009-1509, built 1979) entered service for Kumaden on the 27th of March 2022, with the company planning to purchase another set in 2023, wich will then leave only one 6000 Series set, wich is likely to be used as a spare train (like the 200 Series), rather than in full regular services.
Hence, in a ironic turn of events, rolling stock bought to replace ex-Shizuoka Railway rolling stock, will be themselves replaced by ex-Shizuoka Railway rolling stock**
*counter-indicatively, Kumamoto Electric Railway does have two "official lines" – the "Main Line" between Kami-Kumamoto and Miyoshi and the Fujisaki Line between Kita-Kumamoto (the junction between the two) and Fujisakigu-Mae, however the it operates services irrispective of line names, usually between Miyoshi and Fujisakigu-Mae and between Kita-Kumamoto and Kami-Kumamoto (and sometimes also all the way between Kami-Kumamoto and Miyoshi).
**And this is even more ironic if you consider that the ex-Shizutetsu 500 and 600 Series trains that Kumaden had bought between 1976 and 1979 had been replaced by the very 1000 Series the company's now buying today!