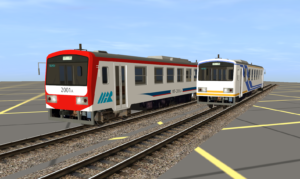 All the necessary dependencies are either included in this package or are avaible on the DLS.
Niigata's first NDC-type cars were the tiny, 14.8m long YR-1000 Series for Yuri Kogen Railway, wich were bought in 1985. One year later, in 1986, the first proper-lenght 16m-long NDCs entered service: the MT-2000 Series of Minami-Aso Railway, wich had inherited JNR's Takamori Line.
A total of just three units were bought; these were equipped with a 6H13S motor manufactured by Niigata Transys itself, and had the transmission on the inner axles only, wich posed a quite significant problem, due to the Takamori Line's steep gradients; therefore, between 1998 and 2001, all three MT-2000s were refurbished and upgraded to an all-axle drive, their livery changed from white, yellow and blue to a white and red one and were reclassified as the MT-2000A Series.
All three units are still in service as of today, forming the bulk of the Minami-Aso Railway's fleet.