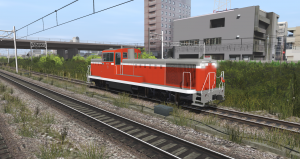 DOWNLOAD All the necessary dependencies are either included in this package or are avaible on the DLS.
DE701 was manufactured by Kawasaki Heavy Industries in April 1971 for the Mizushima Rinkai Railway, wich needed a locomotive sightly more powerful than it's DD50s to haul the heavier freight trains that ran on the railway's mainline.
DE701 is identical to standard DE-1000s intended for heavywheight shunting and as such, shares all of it's components with the latter, including the engine (a well-proven V12 DML61ZA-type), the hydraulic transmission with two speed settings, and the two bogeys. DE701 is also fitted with the ATS-SF system and a cab radio made to JR specifications, allowing the locomotive to directly reach the (relatively) nearby Okayama Freight terminal without the need for an engine change at Kurashiki station. As the Mizushima Rinkai Railway has no suitable facilities heavy-type diesel locomtovies (but only for light ones and diesel railcars), maintainance and overhaul of DE701 is contracted to JR Freight and is carried out at the latter's Hiroshima works.
As of today, DE701 is still in service, hauling freight trains on both Mizushima Rinkai Railway's Main Line and braches and the JR San'yo Main Line between Kurashiki and Okayama.