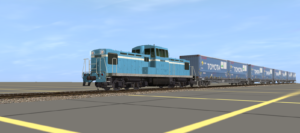 DOWNLOAD This is a reskin of Keimei's JNR DD13 Diesel Locomotive avaible on the DLS. All the dependencies used in this model are the original ones.
The Nagoya Rinkai Railway was one of the first industrial railways to order diesel locomotives based on JNR's DD13.
Classified "ND55", the first locomotives entered service in 1965, and deliveries continued thruought the years, ending in 1974 with a fleet of 9 units.
This already quite large fleet (relatively speaking, for an industrial railway) was further expanded between 1980 and 1988, with the introduction of ex-JNR (and later, ex-JNRSC) DD13s, wich had been withdrawn a few years earlier. As such, in 1988, Meirin had a total of 17 KD55 locomotives in it's fleet.
With the introduction of newer, more fuel-efficient locomotives between the late 1990s and the early 2000s, the KD55 fleet progressively thinned, and currently, only eight locomotives are in service (units 3, 7, 8, 9, 10, 15 and 16).
The remaining nine were all removed from service and scrapped between 1995 and 2012, with the exception of unit No.19 (wich was sold to the Taiheyo Cement Co.), altough it's current whereabouts are unknown.
Unit No.11 was initially statically preserved in Nakatsugawa town, but has since been removed, and it's current status is also unknown (probably it too was scrapped).