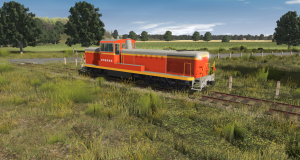 DOWNLOAD The Niigata Rinkai Railway used to own three DE65 Diesel locomotives. These were theoretically derivatives of JNR's DE10s, but were rather more similar to the heavy-duty DE11s instead (themselves too based on the DE10). 
Units DE65 1 and 2 were originally built new by Nippon Sharyo for the railway's opening in 1970, painted in a variant of the JNR standard diesel locomotives' livery, wich was basically identical to the latter but with yellow in place of white (the same livery had been also applied to the company's other two DD56 diesel locomotives, former JNR's DD13s transferred for the line's opening).
In 1995 the Niigata Rinkai Railway acquired another DE10, unit 1144, from JR Freight. This unit, manufactued by Kisha Seizo in 1971, had been assigned to Okayama depot until then, therefore it had to be adapted to the "cold region specifications" (addition of clear-wiew screens, better insulation) before entering service as DE65 3, painted in the railway's standard red and yellow livery.
With the closure of the Niigata Rinkai Railway in 2002, unit 2 was sold to the Akita Rinkai Railway, while the other four locomotives (the two DE65s and the two DD56s) were scrapped soon after.