Made in collaboration with TreinspotterJeffrey/Sanyo J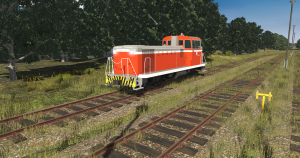 DOWNLOAD All the necessary dependencies are either included in this package or are avaible on the DLS.
This unit, manufactured by Kawasaki in 1976 is owned by Nippon Paper Industries, Japan's second-largest paper and paper-related products manufacturer. While externally it's practically identical to standard DD16s, DD521 is a little heavier, for a total weight of 52 tons (or 13 per axle) and has the driving desk only on one side of the cab.
Originally bought by the Rasa Co. (a chemical products manufacturer) as DD5201, it was used to haul hopper wagons to and from a mine. Later, it was sold to Takasaki transport (a subsidiary of JR Freight operating in Takasaki freight yard) before being eventually bought by Nippon Paper in 1999. Currently, it's used as a shunting locomotive at Nippon Paper's factory in Iwakuni (Yamaguchi prefecture), where it still runs to this day, shuttling freight cars between the plant and the San'yo Main Line.