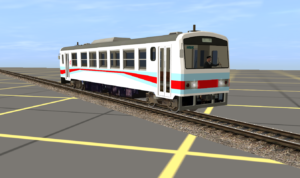 All the necessary dependencies are either included in this package or are avaible on the DLS.
In 1987, five similar railcars to the Minami-Aso Railway MT-2000 Series were delivered to the Nishikigawa Railway, wich inherited JNR's Gannichi Line. Classified "NT-2000 Series", they were largely identical to their predecessors, and entered service on the 25th of July 1987.
Originally, all five units were painted in the railway's standard livery of white with red and acqua green lines, but starting from 1999, each unit was repainted in a different livery, each designed by a town along the line.
With the introduction of the NT-2000 Series in 2007, all five NT-2000s were replaced and taken out of service, with the last unit being retired in January 2009. All of the five NT-2000s were scrapped.