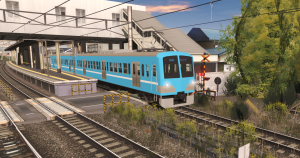 All the necessary dependencies are included in this .rar, included or are avaible on the DLS.
DOWNLOAD Starting from 2013, Ohmi Railway began to purchase second-hand New 101 Series sets from Seibu Railway to replace it's 220 Series (themselves too ex-Seibu stock extensively rebuilt in the 1990s), whose single-car formation was no longer suited to the ridership of the railway's lines, wich was increasing after years of decline. Ohmi Railway procured five 2-car sets "en bloc", wich were converted and put back in service between 2013 and 2018, classified as "100 Series".
Conversion works involved fitting the necessary one-man operation equipment, converting the destination indicators to LED-type ones and a new fresh coat of paint, with the new livery being a pleasant light blue with a white line.
All six 220 Series "electric railcars" were retired by 2015, with some of them being moved to maintainance and other service duties. Currently, all five 100 Series sets are in service, being used interchangeably on all three of Ohmi Railway's lines.