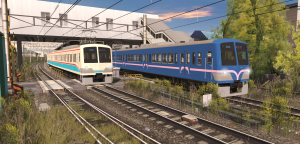 Left: "Akane" livery (2019-…), Right: blue livery (2013-2018)
All the necessary dependencies are included in this .rar, included or are avaible on the DLS.
DOWNLOAD Besides the five 100 Series sets, Ohmi Railway also has one more ex-Seibu New 101 Series set in it's fleet. Classified as 900 Series, this lone set was purchased in 2013 to operate non-stop special services between Hikone and Maibara. Upon arrival at Ohmi Railway, the 900 Series set underwent the same modification as the 100 Series sets, including conversion to one-man operation and the replacement of the original roller-blind destination indicator with an LED-type one.
To distinguish it from the 100 Series, the sole 900 Series set was painted in a particular dark blue livery with a pink line and decorative pink dolphin-shaped stickers on the doors. The 900 Series entered regular service on the 14th of June 2013. Later, the set was moved to all-stop local services.
On the 16th of July 2018 the 900 Series set was repainted in a promotional livery for tourism in the Shiga region, and one year later, it was repainted again, being fitted in the cream, blue and red "Akane" livery of Ohmi Railway's 700 Series set. This set, wich was rebuilt in 1998 from an ex-Seibu 401 Series, was designed to be used for special services and as an "event" train, but had to be retired in 2019 due to ageing technical equipment.
The sole 900 Series set was selected by Ohmi Railway as the 700 Series replacement and was thus repainted in the same "Akane" livery, re-entering service on the 7th of May 2019 as the "Akane II" train.
The 900 Series set is currently in regular service with Ohmi Railway being used both as a "standard" local train (like the 100 Series) and for "event trains".