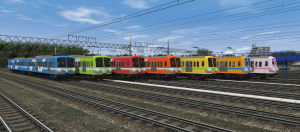 All the necessary dependencies are included in this .rar, included or are avaible on the DLS.
DOWNLOAD Following the opening of the roughly parallel Tsukuba Express in 2005, wich dealt a serious blow to the small company's ridership, Ryutetsu decided to rationalize it's operations and reduce running costs by shortening it's trains to two cars (instead of three) and to implement all-day-long one-man operation (before, trains were operated as one-man services only during off-peak hours).
To implement these changes, in 2009 Ryutetsu purchased a total of five surplus New 101 Series 2-car sets from Seibu Railway. Reclassified as 5000 Series sets no.1 to no.5, the new trains were changed little from their Seibu days, with the only notable modifications being the conversion to one-man operation and the replacement of the roller-blind destination indicator with an LED-type one. 
As with Ryutetsu's tradition, each set was fitted in a dedicated unique livery: the base design remained the same, a solid color base with a longitudinal line below the windows and a huge "N" (for "Nagareyama Line") in the center, however the colours differed largely from set to set, with set No.1 being painted in a blue and white livery, set No.2 being painted in an orange and white livery, set No.3 being painted in a red and white livery, set No.4 being painted in a lime green livery and set No.5 being painted in a yellow and lime green livery. Later, set No.2 was repainted in an orange and blue livery (nicknamed "meteor") and set No.1 was repainted in a 2-tone pink livery (nicknamed "sakura").
The five 5000 Series sets entered service between 2010 and 2013, replacing the 3-car 2000 and 3000 Serieses (themselves too ex-Seibu stock, being "original" 101 Series trains purchased by the railway in the 1990s), wich were fully replaced by 2013. Currently, the five 5000 Series sets make up the entirety of the fleet of Ryutetsu, shuttling back and forth on the tiny 5,7Km long Nagareyama Line.