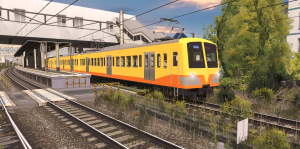 All the necessary dependencies are included in this .rar, included or are avaible on the DLS.
DOWNLOAD This lone 3-car set was purchased by Sangi Railway in 2009 to replace the last of it's ageing 601 Series sets (themselves too ex-Seibu stock, being former 451 Series trains purchased in the 1980s).
Currently, the sole 751 Series is in regular service, running on Sangi Railway's Sangi Line, togheter with the rest of the line's fleet (wich is entirely formed of ex-Seibu trains). Set 751 has changed little from it's "seibu times", the only notable modification made (besides the livery obviously) is the destination indicator, wich was changed to an LED-type display upon the purchase of the set by Sangi Railway.