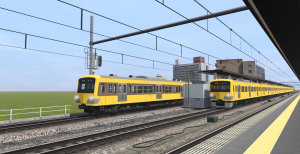 Left: Original livery (1983-1999), Right: Standard livery (1999-2014)
DOWNLOAD All the necessary dependencies are included in this .rar or are avaible on the DLS. Dependencies not mine belong to their respective authors.
By the early 1980s Seibu railway was still firmly anchored to a "traditional" rolling stock design concept, as with the exception of the chopper-controlled 2000 Series operating on the Shinjuku Line (wich had been made out of pure necessity), the most modern class of rolling stock operating on Seibu railway was the New 101 Series wich, depsite being still in production at the time, was nonetheless "born old" as it had the same basic conception of the older 101 Series from a decade earlier and even used copious design elements from older trains as well, all of this in a time when electric traction technology was quickly advancing. High energy consumption on the Ikebukuro Line was also an issue, and as the chopper-controlled 2000 Series trains already granting considerable energy savings on the Shinjuku Line (depsite their small number), Seibu railway finally decided to introduce an up-to-date new type of train on the Ikebukuro Line as well.
The new trains were intended to be used on all-stops local services on the Ikebukuro Line, with the company originally considering to introduce the 2000 Series "as it is" on the line as well; however, since the platforms at Ikebukuro station were already arranged (edge fences, track numbers, destination signs and other markings) for 3-door trains, Seibu railway decided to introduce yet another 3-door train.
Taking advantage of the underway planning for Ikebukuro Line trough-services with the TRTA Yurakucho Subway Line, Seibu Railway began designing the new Ikebukuro Line trains with trough-services in mind. The earliest plans called for a very advanced train, modelled after TRTA's 7000 Series, fetauring armature-chopper control, lightweight aluminum bodies and bolsterless bogeys. However, these plans were soon dropped, as Seibu Railway opted for a far more conservative design.
The new trains ended up being roughly New 101 Series conventional steel bodyshells and bogeys with the 2000 Series' traction control equipment.
Depsite not being the advanced trains originally intended to be in the initial design phases, the new trains weren't entirely an another batch of the New 101 Series, as they nonetheless still had several improvements and design changes. Most importantly the new trains were fitted with the 2000 Series' shunt-chopper control (wich, while being technically "inferior" to a full-chopper control was still superior than the New 101 Series' resistor control), granting considerable energy savings and smoother accellerations. Other modifications were also made, with the most evident difference with the New 101 Series being in the passenger windows' design and arrangement. Otherwise, the remaining equipment (such as the pantographs) was pretty standard among other Seibu trains.
Classified as the "3000 Series", the new trains were manufactured by Seibu Railway's Tokorozawa Works in collaboration with Tokyu Car Co. between 1983 and 1987 for a total of nine 8-car sets. Original plans called for a total of five 8-car formations (for a total of 40 cars) to be built entirely by Tokyu Car Co., however this was soon re-arranged to "give some work" to the Tokorozawa Works.
In the end, formations 3001, 3002 and 3005 were built entirely by Tokyu Car Co. and were completed as full 8-car sets in November 1983; the remaining six sets were built by Seibu's Tokorozawa Works and were built with four cars at a time due to manufacturing capacity constraints (two cab cars and two intermediate cars first and then, at a later time, the remaining four intermediate cars). Formations 3007 and 3008 were completed between July and October 1984 and between December 1984 and March 1985, formations 3011 and 3013 were completed between June and September 1985 and between December 1985 and March 1986, with the final two formations (3015 and 3017) being completed between June and September 1986 and between December 1986 and March 1987.*
The first, Tokyu-built, 3000 Series trains were sent into service immediately after their completion, commencing their regular services on the Ikebukuro Line directly in 1983. The 3000 Series was well recieved, with it's smooth running and energy savings, a considerable improvement over the New 101 Series. However, by the late 1980s, after the final 3000 Series formation had been delivered, passenger congestion on the Ikebukuro Line had became so unbearably high that introduction of a 4-door train couldn't be delayed any longer. After exceptionally good result of some testing with a 2000 Series on the Ikebukuro Line, Seibu Railway finally made the decision to introduce 4-door trains in 1988, with production of an improved version of the 2000 Series, the "New 2000 Series" being quickly started in the same year. The long-awaited four-door trains began services on the Ikebukuro Line in 1991, taking over the busiest rush-hour services from both the 3000 and New 101 Series. In the same year, the 4-door 6000 Series for Yurakucho Subway Line trough-services was also introduced in large numbers as well.
With the 3000 Series inadequate and obsolete 3-door arrangment, unsuitable for the heavy rush-hour loads, and the fast-paced introduction of 4-door trains, the 3000 Series quickly became a burden, being almost immediately relegated to off-peak services, with rush hour duties almost immediately taken over by 4-door rolling stock. Originally intended only for the Ikebukuro Line, starting from 1993 a few 3000 Series sets were moved to the Shinjuku Line to replace some of the older 101 Series sets.
At the time of their introduction, the 3000 Series trains were fitted with the then-standard Seibu Railway livery of canary yellow with a tan band around the passenger windows, like the New 101 Series from wich they derived. In 1999 this livery was simplified by getting rid of the tan window band, with the 3000 Series being returned into service in an all-over canary yellow livery (an identical livery modification was also made to the all the other trains that were fitted with it).
Starting from 2010, some of the 3000 Series sets began to be shortened at Yokose depot to 6-car sets by removing and scrapping two intermediate cars. The first two to be shortened were formation 3005 (in August 2010) and formation 3007 (in November). By the timetable change of the 22nd of December 2012, four 8-car sets (3001, 3003, 3011, 3013) were in service on the Ikebukuro Line and three 8-car sets (3009, 3015, 3017) and two 6-car sets (3005 and 3007) were in service on the Shinjuku Line, with the six-car sets being more commonly used on Kokubunji Line services. With the introduction of the 10-car, 4-door 30000 Series in 2013, Seibu Railway decided to completely replace the 3000 Series 8-car sets.
Formations 3001, 3003, 3013, 3015 and 3017 were removed from service in the same year. Withdrawals continued in the following year, with both six and eight car sets being removed from service. The last remaining 3000 Series trains, 8-car sets 3009 and 3011, were completely retired in late December 2014. All 3000 Series sets were scrapped between 2013 and 2014, with the exception of four cab cars from fromations 3007 and 3009 wich were purchased by Ohmi Railway and were converted into two 300 Series 2-car sets trains, wich re-entered service in 2019.
Unfortunately, other than the two Ohmi Railway sets, no 3000 Series cars have been preserved.
* For the 3000 Series Seibu Railway has used a non-continuous formation numbering: the total nine formation built are numbered 3001, 3002, 3003, 3005, 3007, 3009, 3011, 3013, 3015 and 3017. Numbers 3004, 3006, 3008, 3010, 3012, 3014 and 3016 were skipped.