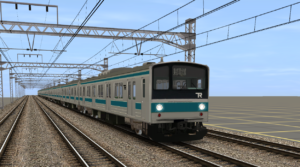 This is a reskin of the Nambu Line 205 Series by Rizky_Adiputra.
All the necessary dependencies are included in this package, avaible on the DLS or from Rizky's website 
Reskinned with permission.
DOWNLOAD In the early episodes of Detective Conan (from the first ones in 1996 up to the late 1990s), 205 Series trains operated by "TR" on the fictional "Toto* Loop Line" were commonly used to depict real-life JR East Tokyo Area lines, primarily the Yamanote Line, but also the Saikyo, Keihin-Tohoku and Chuo-Sobu Lines. 
Eventually, as the series popularity grew (and so did it's budget), real-life locations (and railways) replaced fictious ones, and by the mid-2000s, with some exceptions, Detective Conan fully transitioned to real, existing trains, such as the Ida Line 119 Series depicted in episode 517 (10th November 2008).
"TR" 205 Series trains are primarily fetaurted in the Train Trick Murder Case (Episode No.57, aired 21 April 1997) and the first Detective Conan movie, Time-Bombed Skyscraper (aired 19 April 1997) in a sequence very reminiscent of the 1975 movie Shinkansen Daibakuha.
* To in japanese can mean (among other things) both "eastern" (東) and "city" (都); therefore "Toto" means "Eastern City", a semi-play on the "Tokyo" (東京) name, wich means "Eastern Capital".