Made in collaboration with TreinspotterJeffrey/Sanyo J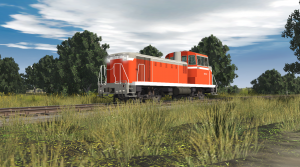 DOWNLOAD All the necessary dependencies are either included in this package or are avaible on the DLS.
The Wakasa Railway bought DD16-7 in 2012 from the Railway Technical Research Institute (the agency tasked with conducting railway technology research on behalf of the JR Group), wich had been using it to shunt it's experimental trains at it's Kokubunji test center. The Wakasa Railway intends to use the locomotive as an helper for the steam-hauled tourist train it plans to operate, for wich the company has already bought a C12 locomotive (unit 127) and a rake of three ex-JR Shikoku passenger cars.
However, as C12 127 is not operational yet, DD16-7 is currently unused, and is usually stored at Wakasa station. During special events, such as festivals or holidays, DD16-7 is avaible for "driving experiences": assisted by a driver, you can drive the locomotive for a short stretch on the station's premises.