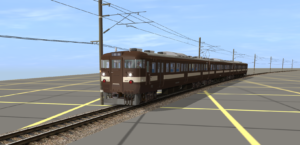 DOWNLOAD This is a reskin of Keinchiro's 113 Series upgraded by Hirochi. All the necessary dependencies are included in this package or are avaible on the DLS.
Ahem…
Story goes that in 1998, to commemorate the 70th Anniversary of the Minobu Line, JR Central decided to repaint one of the line's 115 Series trains in it's original red and cream Minobu Line livery (gradually after the privatization, the trains were reapainted in the Shonan Livery); the set chosen was 3-car set B4.
To do this, the Nagoya Depot tasked with repainting the set asked it's Minobu Line counterpart for the names of the paints to use.
Once it was repainted, the set was sent on it's way to the Minobu Line, but upon the arrival, the line's workers noticed the error: insead of the correct "Wine Red No.2", the Nagoya Depot had used the "Grape No.2" color, wich was a very dark shade of brown (of the same type used on old-style electric locomotives such as EF58 or ED15s), completely different for the correct wine red paint.
Of course, once the error was noticed, the set was immediately sent back to Nagoya Depot (along a not-so-friendly letter of complaint) and was repainted in the correct colors.
Set B4 ended up carrying the "wrong livery" for just two days, and it's unknown if it did passenger service during that period.
Trivia:
It's still unknown if this mishap was caused by an error on the Minobu Depot's side (communicating the wrong paint names) or the Nagoya Depot's side (using the wrong paint).