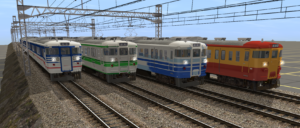 From left to right: 1st Niigata Livery, 2nd Niigata Livery, 3rd Niigata livery and Revival Livery Set N3
DOWNLOAD This is a reskin of Keinchiro's 113 Series upgraded by Hirochi. All the necessary dependencies are included in this package or are avaible on the DLS.
Mixed Consists (requires the Niigata Area 115 Series and the JR East Shonan Livery 115 Series packs installed first)
115 Series trains were introduced in the Niigata area in 1976, to replace the old, obsolete and inadequate 70 Series. Fitted in the standard shonan livery, they were initally assigned to Nagaoka depot for services on the Shin'etsu Main Line. Further sets were delivered in 1984 for the electrification of the Echigo and Yahiko Lines.
In 1987, during the post-privatization transitional period between JNR and JR East, the Niigata area 115s were repainted into a new livery of blue and white with a red line; wich, according to JR East, represented "the snow and the sea of Niigata prefecture". This livery, later nicknamed "1st Niigata Livery" was also applied to the KiHa 40 DMUs operating in the Niigata area.
Around 1994, a new livery of white with green lines was introduced for the Niigata 115s: the "2nd Niigata Livery", and in the early 2000s, yet another livery was introduced: the white and blue "3rd Niigata livery", wich was applied to the trains that underwent a small refurbishment program.
In January 2017, 115 Series set N3 was repainted with a revival livery of dark red and yellow, based on the one that was carried by 70 Series trains before they were replaced by the 115s themselves in the 1970s.  As the revival livery was very well recieved, many more followed later, with Set N37 being repainted into the 1st Niigata area livery in September and Set N35 being repainted into the "2nd Niigata area livery" in February 2018. Due to the presence of many different liveries, mixed consists were extremely common.
As of today, the Niigata area is the last stronghold of JR East's 115 Series, but hte fleet is getting thinner by the year. JR East has only 22 115 Series cars are in service, all in the Niigata area, wich is less than 2% of the 1186 115 Series cars that it had inherited by JNR in 1987.
Trivia:
At one point, the Niigata General Rolling Stock center had 115 Series trains in six different liveries: Shonan, 1st Niigata, 1st Yahiko, Yokosuka (lent cars from Oyama depot), 2nd Niigata and 3rd Niigata.