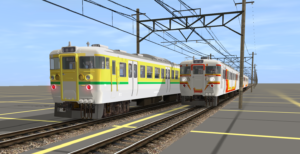 DOWNLOAD This is a reskin of Keinchiro's 113 Series upgraded by Hirochi. All the necessary dependencies are included in this package or are avaible on the DLS.
115 Series trains were introduced on the newly electrified Yahiko Line in 1984. Originally fitted in the shonan livery, three 2-car 115-500 Series sets were introduced, and later, a 3-car 115-0 Series set also entered service for rush-hour duties.
In 1988, after the privatization of JNR, the Yahiko Line 115s were repainted into a new livery of white with vermillion and yellow diagonal bands, wich was inspired by the Yahiko Shrine festival.
In the early 2000s, the "1st Yahiko Livery" was replaced by a simpler one, wich was white and yellow with a green line, wich completely replaced the older one.
In 2015, all the Yahiko Line 115s were replaced by the more modern E127 Series, consequently the Yahiko Line livery disappeard…
…until three years later, when in 2018, two Shin'etsu Main Line 115 Series sets were repainted in both the old and the new Yahiko Line livery!
Both revival livery trains are still operating on the Shin'etsu Main Line and on the Echigo Line, altough their replacement (like the rest of the 115 Series fleet) is imminent.