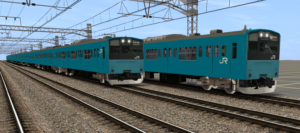 This is a reskin of the Chuo Line 201 Series by Rizky_Adiputra.
All the necessary dependencies are included in this package, avaible on the DLS or from Rizky's website
Reskinned with permission.
DOWNLOAD Altough newly opened in 1990, the Keiyo Line was operated mostly with old 103 series trains displaced from the Yamanote and Chuo lines, along with a minority of newly-built 205 series trains.
To replace the ageing 103s, surplus 201 Series sets (wich had been replaced by 209-500s and E231-0s on Chuo-Sobu Line duties) were repainted and moved to the Keiyo Line, starting from 2000.
Altough the Keiyo Line's color is "Wine Red", the 201s were fitted in the JNR's skyblue livery, like the 103 series that they were replacing. The blue livery was a nod to the original intent of the Keiyo Line, wich (besides providing a faster bypass route for freight trains) was to provide access to the sea; therefore the "Sky blue" of JNR became the "Marine Blue" of JR East.
The line's livery was later changed back to wine red, to avoid confusion with the Keihin-Tohoku Line (wich stops at Tokyo Station, where the Keiyo Line terminates), when the E331 and later, the 209-500 Series entered service on the line.
The 201 series replaced the 103 series by 2005, helped in this by a few 205 Series sets moved from the Yamanote Line. Keiyo Line 201 series sets would continue to run until 2011, when, like their siblings on the Chuo Line, they were replaced by the E233 Series, specifically,  the E233-5000 subseries.