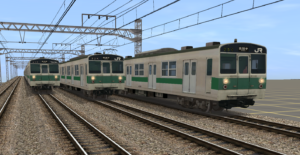 "Refurbished" version of the original 203 Series avaible on JTrainz.com (or on the DLS).
The modifications include:
– Added destination indicators, train service number indicators and company logos on the front.
– replaced the original JTrainz bogeys of the KuHa units (but not with intermediate MoHa and SaHa units, due to clipping issues) with TR211 ones made by Keimei, more closely resembling the real ones (also retrofitted the JTrainz ones with a new bogeysound).
– replaced default "electric enginesound" with my JNR armature chopper enginesound.
– replaced the default "tgv" enginespec with new ones (one of the motor carriages, one for trailer ones) made by me.
– replaced the default interior with Hirochi's 113 series one.
– replaced the default hornsound with a new one made by me: the horn is the standard JNR EMU horn (here sampled from a 205 series) and the bell is the iconic JNR station bell plus the announcment voice saying "dooa ga shimarimasu" (doors are closing).
– replaced the original JTrainz pantographs with slimmer and more realistic ones from JIRC (Rizky).
There are three variants avaible:
– JNR one (1982-1987)
– JR East (roller-blind train service number indicator – 1987-200X)
– JR East (dot-matrix train service number indicator – 200X-2011)
Brief history:
The 203 series was introduced in 1982 by JNR to replace the 103-1000 series, wich were proving to be inadequate for inter-running services (in this case, from the TRTA Chiyoda Line to the Joban Line).
Introduced starting from 1982, it was derived from the 201 series of 1979, sharing most of the control equipment (a Mitsubishi Electric armature chopper), bogeys, pantographs… a total of 17 10-car sets (170 vehicles) were built.
By the mid-2000s the Chiyoda Line inter-running stock comprised 17 203 series sets, one single 207-900 series set and two 209-1000 series sets, a total of three different types for just 20 trains. As such, JR East sought to replace all these types with a standardized design.
Based on the then-new E233 series, the E233-2000 series was introduced in 2009 and replaced the 207-900 series set in the same year, while the 203 series was replaced two years later in 2011. The two 209-1000s were replaced in 2018 by an additional E233-2000 series set built in 2017.
Five surplus 203 series sets (51, 52, 66, 68, 69) were sold to KCI (Kereta Commuter Indonesia) in 2011. They still operate on urban and suburban commuter services in the Jakarta Metropolitan Area.
Also in 2011, a further four 203 series sets (53, 54, 55, 67) were donated to the Philippine National Railways, where they operate as (absolutely knackered) non-reversible 4-car sets hauled by a GE diesel locomotive on Manila commuter trains (the philippines have no electrified railways).
DOWNLOAD (JR East Version)