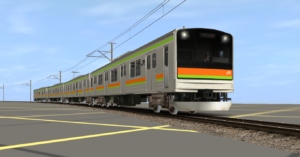 This is a reskin of the Tsurumi Line 205-1200 Series made by Rizky_Adiputra.
All the necessary dependencies are included in this package, avaible on the DLS or from Rizky's website 
Reskinned with permission.
DOWNLOAD A total of five 4-car 205-3000 Series sets converted from former Yamanote Line cars were introduced on the Kawagoe and Hachiko Lines between 2003 and 2005, with the aim of replacing the last 103-3000 and 103-3500 Series trains still in use, wich were retired by October and March 2005 respectively.
The 205-3000s were modified with semi-automatic, passenger-operated doors, and were retrofitted with a wheelchair-accessible toilet.
Starting from early 2018, the influx of E231-3000 and 209-3500 Series sets converted from displaced former Chuo-Sobu Line stock, led to the replacement of most of the two lines' rolling stock, including the 205-3000s, wich were replaced in July 2018 and subsequently scrapped.