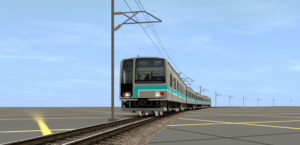 This is an update of the 205-500 Series modified by Kurotrick on the 205-0 Series base made by Rizky_Adiputra.
All the necessary dependencies are included in this package, avaible on the DLS or from Rizky's website 
Reskinned with permission.
DOWNLOAD The 205-500 Series was introduced in 1991 for the electrification of the Sagami Line. Formed in 4-car sets, the 205-500s had several differnces with standard 205-0s, the most notable one being the new and unique front design, with the front mask made in FRP. Other changes from standard 205s were the addion of a cowhanger (the Sagami Line has several level crossings), semi-automatic passenger-operated doors and a different color set for the interiors, for instance the cab was painted black-gray (like subsequent Shin-Keiretsu-Densha serieses) instead of the JNR's blue/green.
Depsite the modern appearance, the 205-500s were performance-wise exactly identical to standard 205-0s, in fact they used (and still use) the obsolete resistor control (with superimposed field excitation).
The 205-500s were also the first trains fitted with the "MON5" diagnostic system, wich was subsequently used in 215 and 651 Series trains, and became the base for the "TIMS" system in use today on the majority of JR East's trains.
A total of thirteen 4-car sets (a total of 42 cars) were delivered in 1991. Assigned at the Kozu Vehicle Center, the 205-500s effectively replaced the KiHa 35 and 36s in use before the line's electrification.
As of today, the 205-500s are among the oldest commuter trains still in regular use on JR lines in the Tokyo Area, and there are no replacement plans yet, as the Sagami Line sees little traffic per day.