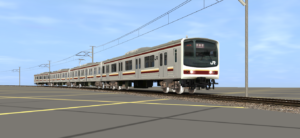 This is a reskin of the Nambu Line 205 Series by Rizky_Adiputra.
All the necessary dependencies are included in this package, avaible on the DLS or from Rizky's website 
Reskinned with permission.
DOWNLOAD Surplus 205-0 Series cars displaced by the E233 Series on both the Saikyo Line and the Keiyo Line were converted between 2012 and 2014 to became 205-600 Series sets for use on local, rural services north of Tokyo, on the Utsunomiya and Nikko Lines.
A total of twelve 4-car sets (48 cars) were converted from surplus cars, and they entered service on the 16th of March 2013, assigned at Oyama depot. Of the 12 sets, four (Y2, Y3, Y6 and Y10) were for Nikko Line services, and eight (Y1, Y4, Y5, Y7, Y8, Y9, Y10 and Y11) were for Utsunomiya Line services. Sets Y10 and Y11 were former Saikyo Line cars with the "original" front style, while all the remaining 10 sets (including all the ones for the Nikko Line) were former Keiyo Line "Marchen Face" sets. Among the various modifications, they were fitted with semi-automatic passenger-operated doors.
Utsunomiya Line 205-600s were repainted into the iconic "Shonan" orange and green colours, while Nikko Line 205-600s were repainted into the line's own dark brown livery.
The 205-600 Series replaced the 107-0 Series trains on the Nikko Line by 2013 and displaced the Utsunomiya Line 211 Series trains, wich were transferred to Ryomo Line duties at around the same time.
The Utsunomiya Line 205-600 Series sets are used on local services between Utsunomiya and Kuroiso only, as the latter is the border station between 1500v DC and 20Kv 50Hz electrifications (the 205 Series is, and always was, a strictly DC-only train).
At present, there are no plans to replace the 205-600 Series.