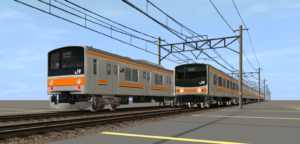 205-5000 Series on the left, "Marchen Face" 205-0 Series on the right
This is a reskin of the Nambu Line 205 Series by Rizky_Adiputra.
All the necessary dependencies are included in this package, avaible on the DLS or from Rizky's website 
Reskinned with permission.
DOWNLOAD Togheter with the Keiyo Line, 1990-built "Marchen Face" 205 Series trains were also introduced on the Musashino Line, to increase the line's capacity. Formed in 8-car sets and painted in the line's orange livery, they entered service on the 1st of December 1991, and by the mid-90s, a total of six 8-car sets were in service.
Later on, these were joined by 205-5000 Series trains, a conversion of former Yamanote and Chuo-Sobu Lines stock wich replaced the old resistor control and DC brushed motors with three-phase AC motors and IGBT-VVVF inverters. Introduced between 2002 and 2005, with a few more sets in 2008, the 205-5000 Series replaced the last Musashino Line 103 Series trains by December 2005.
In 2010, the first former Keihin-Tohoku Line 209-500 Series trains entered service on the Musashino Line, and starting from the mid-2010s, displaced 209-500s and E231-0s started being transferred onto the Musashino Line, with the intent to replace the last surviving JNR-designed trains by the time of the 2020 Olympics.
The "Marchen Face" 205-0 Series were all replaced by 2019, and the complete replacement of 205-5000 Series trains is imminent, due to be completed by 2020.
Both the 205-0s and the 205-5000s replaced by E231-0s and 209-500s will be sold to the Indonesian Railways, were they will re-enter service on the busy commuter railway lines in Jakarta; as a matter of fact, some sets of both the "Marchen Face" and the VVVF controlled -5000 Subseries are already in service in Indonesia.