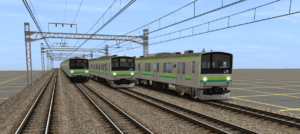 This is a reskin of the Nambu Line 205 Series by Rizky_Adiputra.
All the necessary dependencies are included in this package, avaible on the DLS or from Rizky's website 
Reskinned with permission.
DOWNLOAD The Yokohama Line was one of the first lines in the Tokyo Area to recieve JR East-built 205 Series trains, (partially due to the opening of the line's extension to Hachioji in March 1988).
In september 1988, a total of twenty-five 7-car sets was delivered to the Kamata Depot, and after some testing, they entered service in February 1989, immediately replacing the 103 Series trains in use until then.
In 1994, the Yokohama Line 205 Series sets were lenghtened to eight cars with the addition of a six-door SaHa cars, the infamous rush-hour standing-only "cattle" car, and in 1996, the whole Yokohama Line fleet was transferred to the newly-built Yokohama Depot, wich replaced the older Kamata one.
In 2006, the 205 Series trains were retrofitted with a digital radio and the destination boards were changed from the older roller-blind type to a more modern LED type, and by 2007, D-ATC (Digital-ATC) equipment was retrofitted to all trains, as the Negishi Line (onto wich some Yokohama Line trains operate trough-services) had chaged it's saftey system to the D-ATC.
This is because the Negishi Line is operated jointly with the Keihin-Tohoku Line, wich (togheter with the Yamanote Line), replaced it's JNR-designed analogue ATC-6 system with the D-ATC in 2006; before that, only the Keihin-Tohoku Line was equipped with ATC-6, with the Negishi Line still relying on the less-advanced ATS-P. The decision to upgrade the signalling on the Negishi Line as well was made to simplify operations. The Yokohama Line still uses ATS-P to this day.
In February 2014, the new E233-6000 Series was introduced to replace the older trains, wich were completely replaced by the summer, with the last run of a Yokohama Line 205 Series train on the 23rd of August 2014. Most of the withdrawn Yokohama Line 205s were sold to the Indonesian Railways, and they still operate as of today on Jakarta's commuter railway lines, formed in 8 or even 12-car sets.
Depsite not being travelled on by it's "proper" 205-0 Series trains, the Yokohama Line still sees 205-500 Series trains running Sagami Line inter-running services between Hashimoto and Hachioji.
Trivia: 
With the full replacement of the 103 Series on the 26th of February 1988, the Yokohama Line became the first railway line in the Tokyo Area operating a 205 Series-only fleet, beating the Yamanote Line by five months, as it's last 103 Series train was retired on the 26th of June.