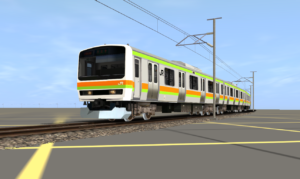 This is a reskin of the E231-500 Series made by Rizky_Adiputra and avaible on his website (jirctrainz.com).
All the necessary dependencies are included in this .rar, included in the original content's package or avaible on the DLS.
DOWNLOAD Similarily to the E231-3000s introduced a year before, a few Chuo-Sobu Line 209-500 Series sets displaced by E231-500s were converted into 4-car sets for use on the Kawagoe and Hachiko Lines.
Re-classified as "209-3500 Series", they entered service on the 7th of May 2018.
Currently there are five 4-car sets in service, all based at Kawagoe depot.