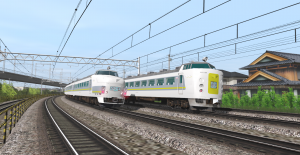 DOWNLOAD This is a reskin of Keinchiro's 485 Series upgraded by Hirochi and modified by Rizky_Adiputra. All the necessary dependencies are included in this package or are avaible on the DLS.
485 Series trains were introduced on Hitachi limited express services in 1972, running between Ueno station in Tokyo and Sendai. Depsite the relatively "young" age of the trains, by the late 1980s, the then-newly-privatized JR East was already seeking a replacement for the 485s, mainly to improve it's image. Designated as the 651 Series, JR East's first new AC/DC multivoltage limited express train entered service on the 11th of March 1989.
Due to their novelty, 651 Series trains were exclusively assigned to dedicated, faster "Super Hitachi" services, while the "regular" Hitachi services were still run by 485s, all in their traditional, but old-fashioned JNR red-and-cream livery. To further improve it's image, JR East decided to repaint the 485 Series in a "more modern" livery: a base of white with grey window bands and yellowish-green decorations. 
The new livery started to be applied on 485 Series sets in 1992, being applied both on "bonnet-style" and "flat-front" cars (both types were indeed running Hitachi services), completely replacing the old JNR livery a few years later. However, JR East's new "Hitachi" livery was shortlived, being cut short by the replacement of the 485 Series with the new 653 Series. On the 7th of December 1998, the last "Hitachi"-liveried 485 Series ran for the last time, marking the end not only for the livery, but for "regular" Hitachi services as well – from the next day, all former "Hitachi" services were transformed into either Super Hitachi services run by the 651 Series or Fresh Hitachi services run by the 653 Series.
Trivia:
The "Hitachi" name for limited express services was restored in 2015, when "Super Hitachi" services  (now operated exclusively by E657 Series sets) were extended southwards, from Ueno to Shinagawa station (via the newly-built Ueno-Tokyo Line) and renamed simply "Hitachi". 
*To be clear, in this case "Hitachi" does not refer to the industrial conglomerate (wich did participate in the construction of the 485 Series, among other things), but rather to the ancient "Hitachi" province, wich was named after the (still existing, of course) city of Hitachi, after wich the company was also named (having been established there in 1908).